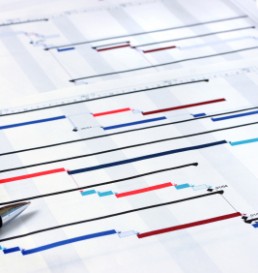 Project Management
You are projecting, executing or contracting an industrial plant? Are you an EPC-contractor, subcontractor or responsible for a work package? We back you up and take charge of the planning and execution of your projects.
Sustainability
Our team has a proven track record in the technical and commercial execution of medium and large industrial plants steering complex EPC projects. We plan the required project organisation, project the execution phase and take charge of work packages or the project management and thereby contribute to your project's success.
Reporting
Whatever your needs are, we will always keep you up-to-date about the current status of your project. No matter whether important decisions are to be taken or you need to report on a regular basis to your stakeholders, we adapt our reports to your requirements and inform you comprehensively on a regular basis preparing you for things to come.
Scheduling
Every project requires thorough planning and scheduling. Our team of experts prepares the time schedule according to your individual needs and requirements and we secure a proper follow-up throughout the entire project execution phase. We will spot deviations at an early stage and enable you to take appropriate countermeasures.
Cost Controlling
We take care of projecting and following up on your project costs. Based on our experience, the initial estimates, feedback from procurement and the current status of your project will be tracked constantly and we help you to proactively shape your costs and secure your benefit.
Project Documentation
Reliable project documentation is the bedrock of economic success and a requirement for compliant fulfilment of standards and regulations. Once you lose track of your documents you lose track of your entitlements and your project prosperity. To avoid this we will provide you with all necessary documentation for our scope of services.