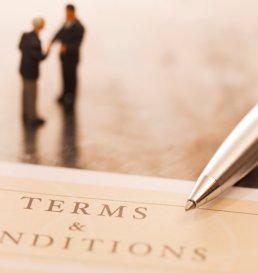 Contract Management and Negotiation Agent
Keeping track of a project's contracts and contractual dates with different suppliers and partners is not always easy. Clear wording and proactive design of contract structures, consortia agreements and supply and service contracts allows you to focus on your core project progress.
Contract Structure
Today international projects require a complex contractual framework. Consortia agreements with many different parties, split-up of delivery and service contracts, sub-contracts and side-letters have to be coordinated towards a common goal. As experts we support you and your partners to find the appropriate structure and to make sure you always have all information in your contracts at first glance.
Taxes & Social Security
Cross-border projects force you to confront and comply with different taxation and social security systems abroad. With our international experience and together with your local tax and legal consultants we guide you through the setup of local structures and recommend the appropriate structure for your contract design. We also support you through the process of founding, leading and dissolving your project subsidiaries or permanent establishments around the globe.
Public Tenders & Procurement
Your success in procurement will be best secured by an ideal bidding process with competent, preselected bidders. We are experienced in facilitating bidding processes according to FIDIC, VOB or individual standards, including the preparation of tender documents, selecting and pre-qualifying prospective bidders, the technical and commercial clarification and a final recommendation for award.
Negotiation Agent
Our team has a proven track record of negotiating supply and service contracts. We will achieve your requirements as your negotiation agent with your customers, suppliers and contractors.